I am honored to be a recipient of the Detroit Home Design Awards. Special thanks to all my clients who place their complete faith in what I do and together we do make the unimaginable come true! And of course all my contractors, reps and my team at Tutto! Love you all.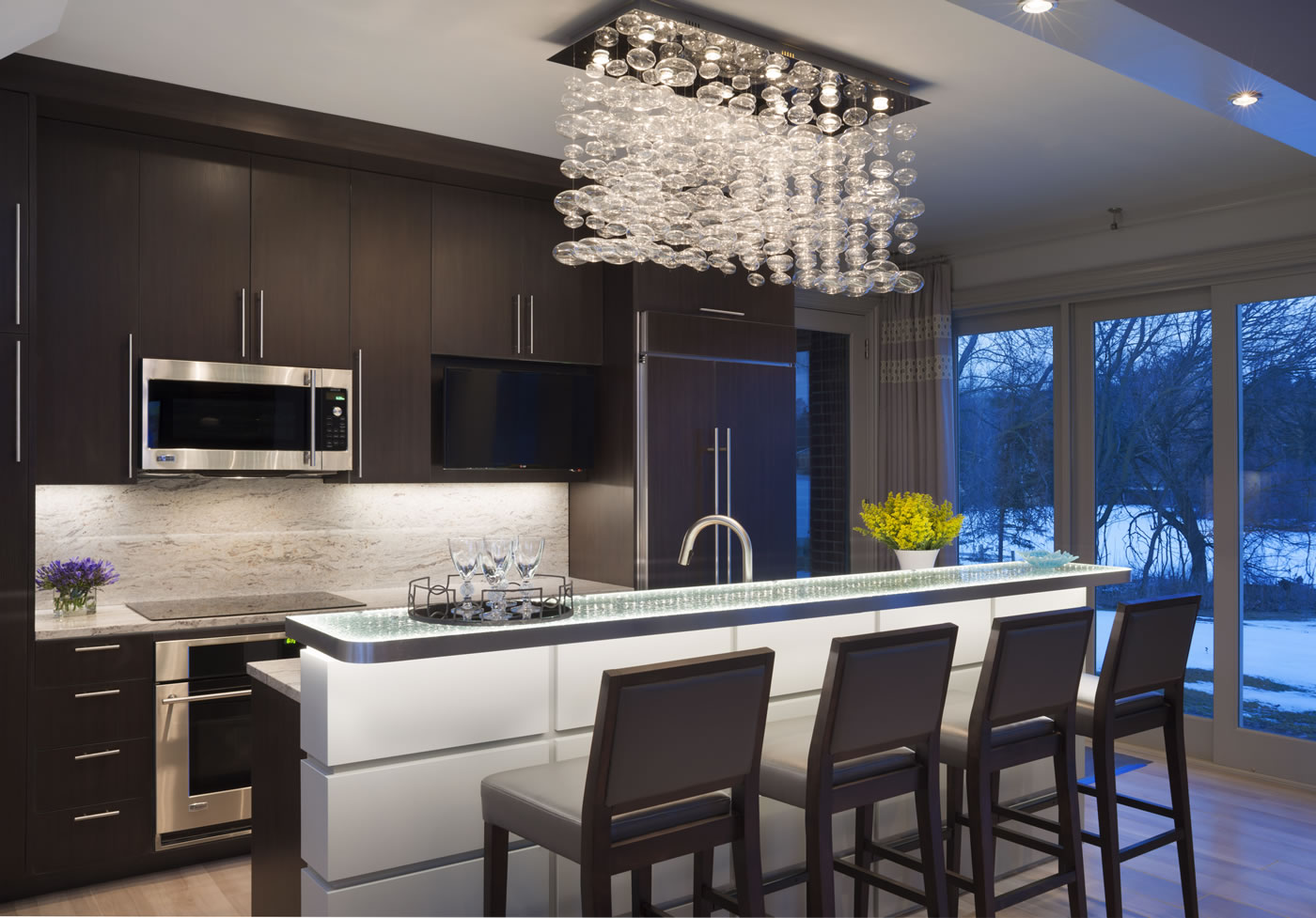 1st – TUTTO INTERIORS:

DETAILS

| decorative glass and mirror

This space was originally a second bedroom in a lower level with one very small window. It now features a 9-foot doorwall and a stunning galley kitchen with an illuminated glass countertop. 

"I love the dark wood contrasted with the glass countertop and
the bubbles chandelier."
— Judge Arden Stephenson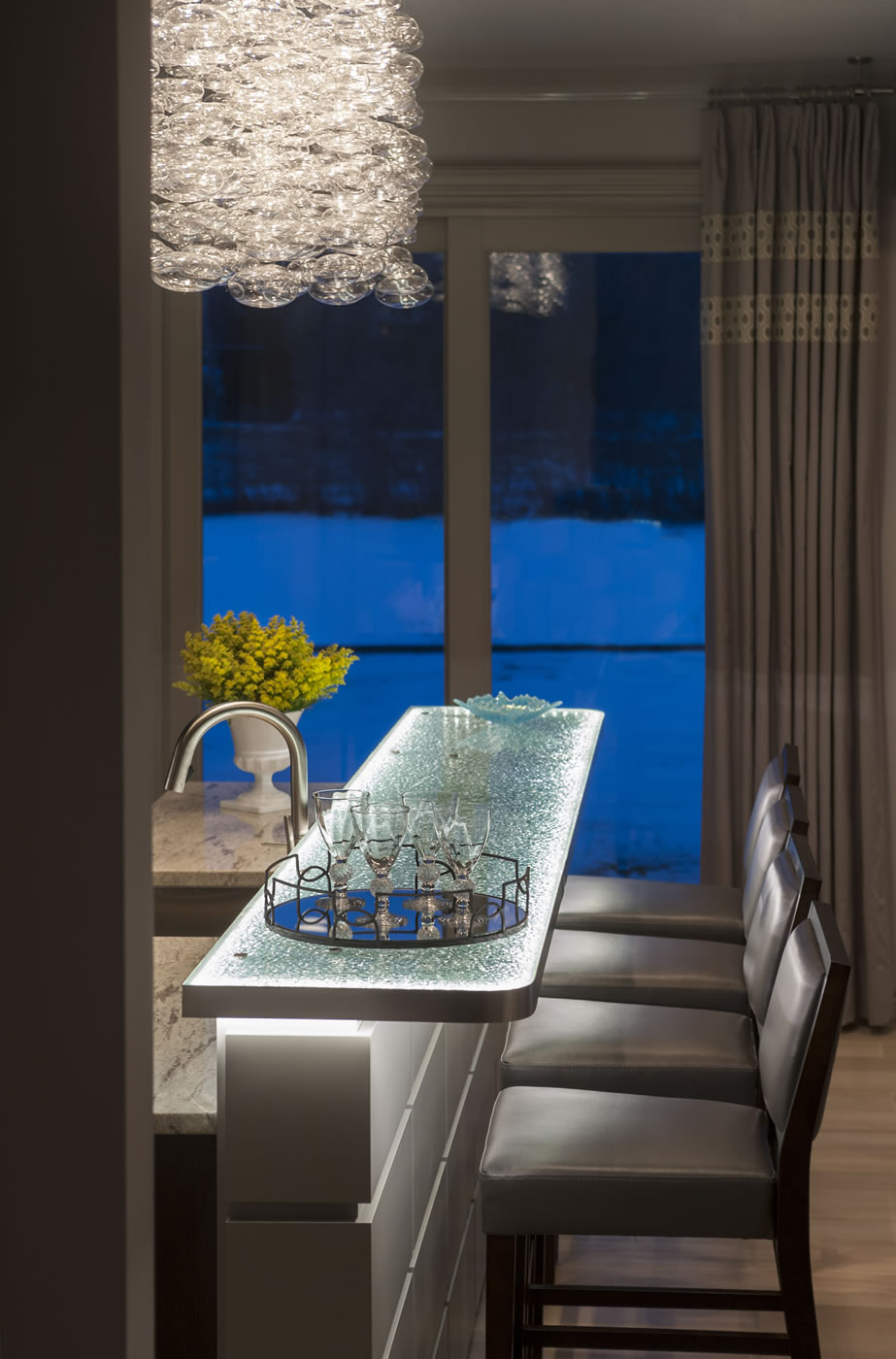 1st – TUTTO INTERIORS:

DETAILS

| interior / exterior lighting

This dramatic and delicate light fixture had to be customized for the height restriction. Paired with the glass counter- top, it ended up being the perfect fit. In the evening, it emits a beautiful illumination across the entire space. "It has the feeling of a high-end restaurant bar," judge Stephen Chung said.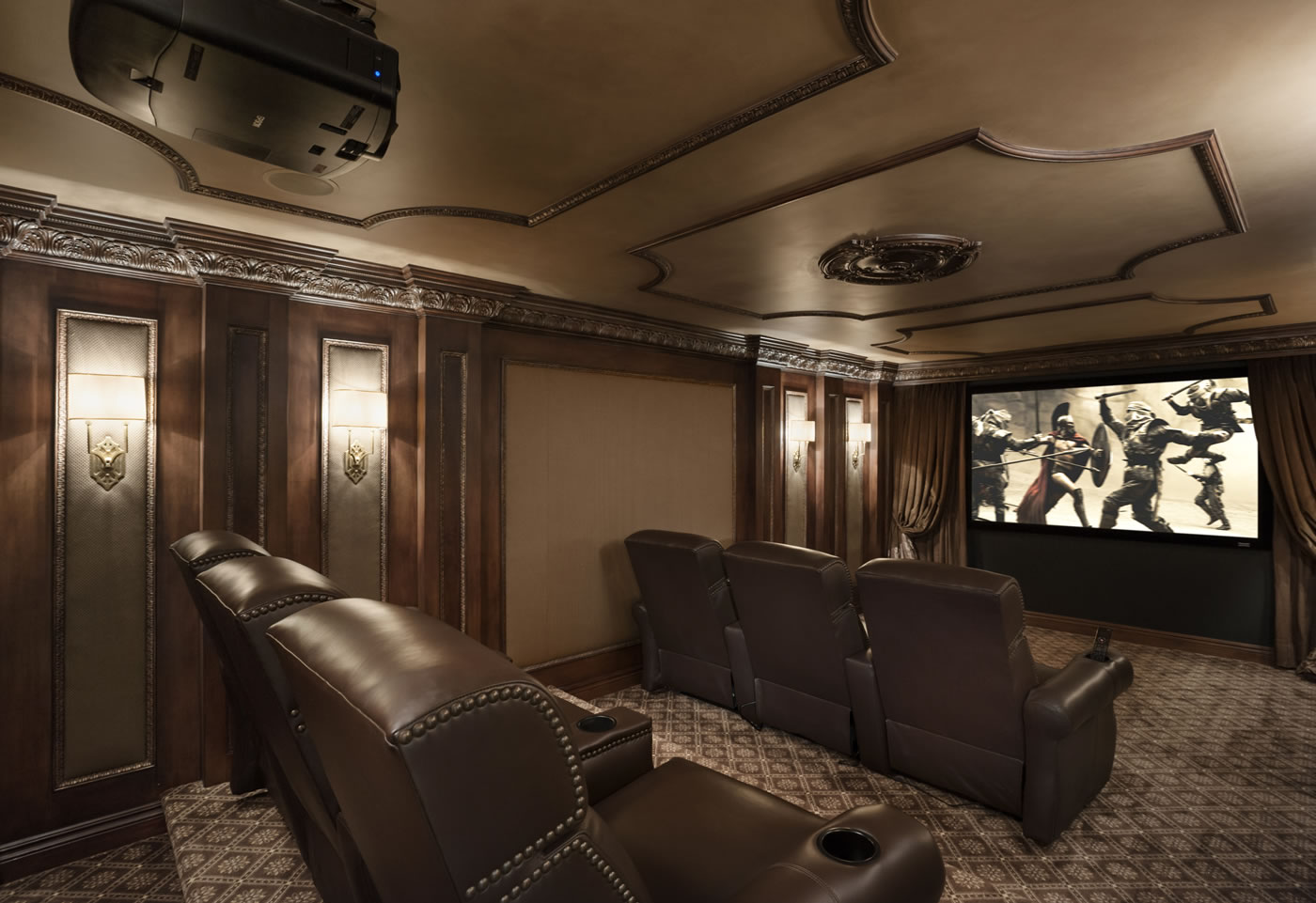 1st – TUTTO INTERIORS:

INTERIORS

| home theatre

Located at the end of the lower level and originally planned as a laundry room that the former homeowner did not use, this area underwent an amazing transformation. The entire space features wood paneling with fabric panels and a hidden door to access the electronics.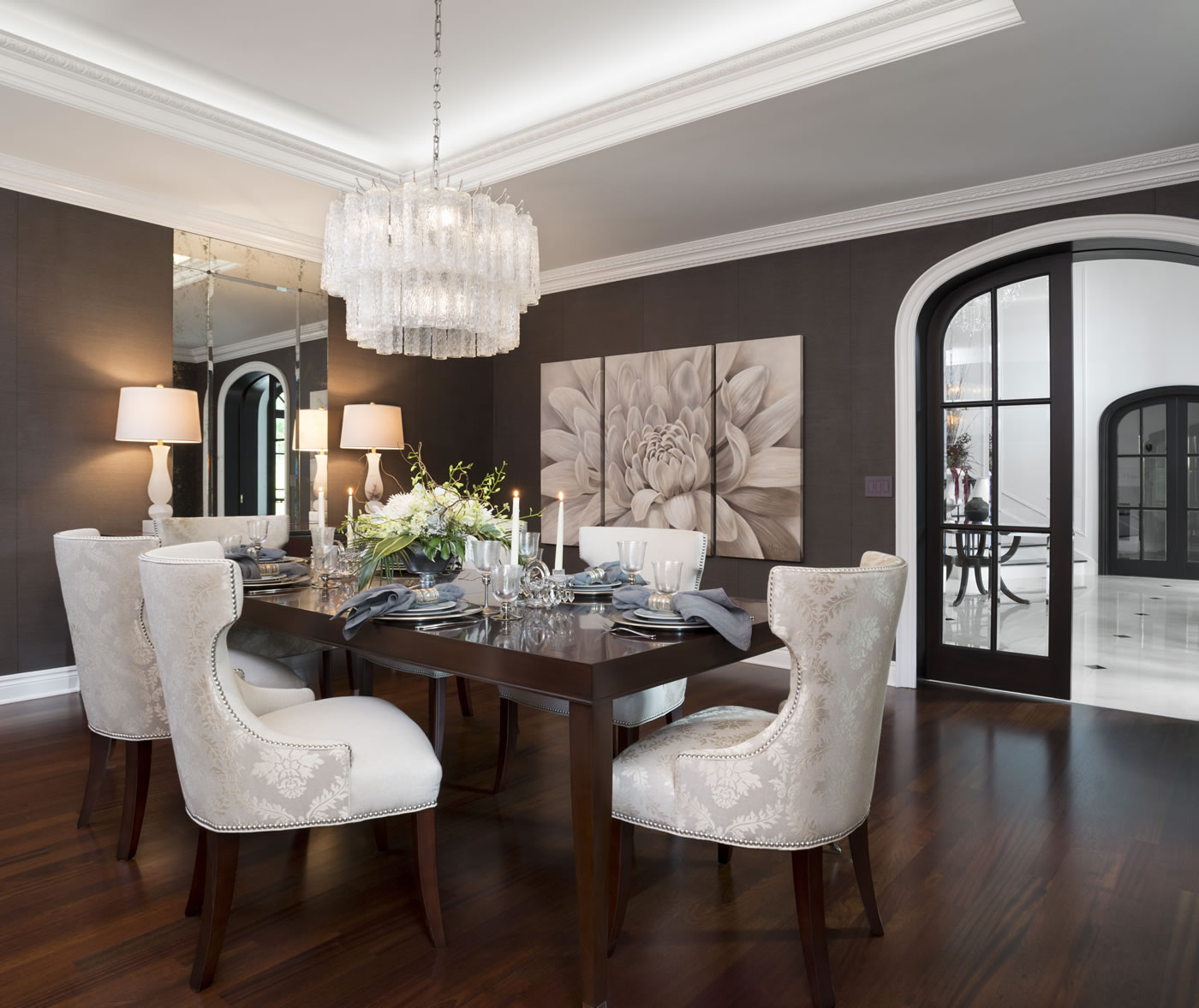 2nd – TUTTO INTERIORS:

INTERIORS

| traditional dining room

A complete renovation with all new furnishings, refinished floors to a dark walnut, walls faux painted with a technique that looks like seamed grass paper, custom art commissioned from a artist in Missouri. The chandelier was custom made from a craftsman in California using 1960s venini glass. Custom antique mirror made by a local craftsman who does his own antiquing.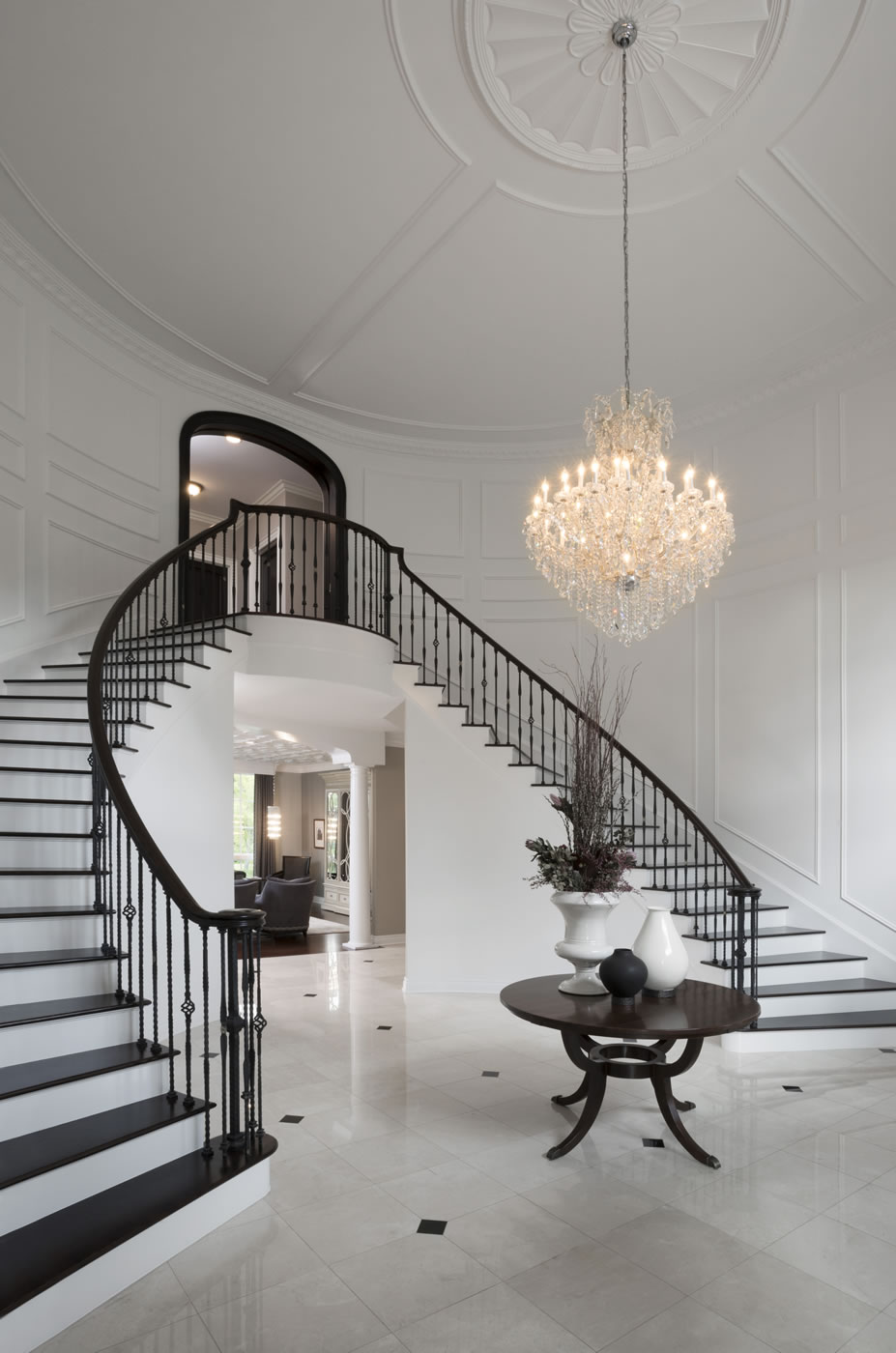 1st – TUTTO INTERIORS:

INTERIORS

| traditional foyer

Formerly unattractive with empty, painted gold walls; a trimless ceiling; a stairway of orange (treads, stringer, riser, and steps); and the current chandelier (the designer kept it, but gave it new life); the space now is stunning. New features include trim work, a white-painted stringer and risers, and the stained steps and banister.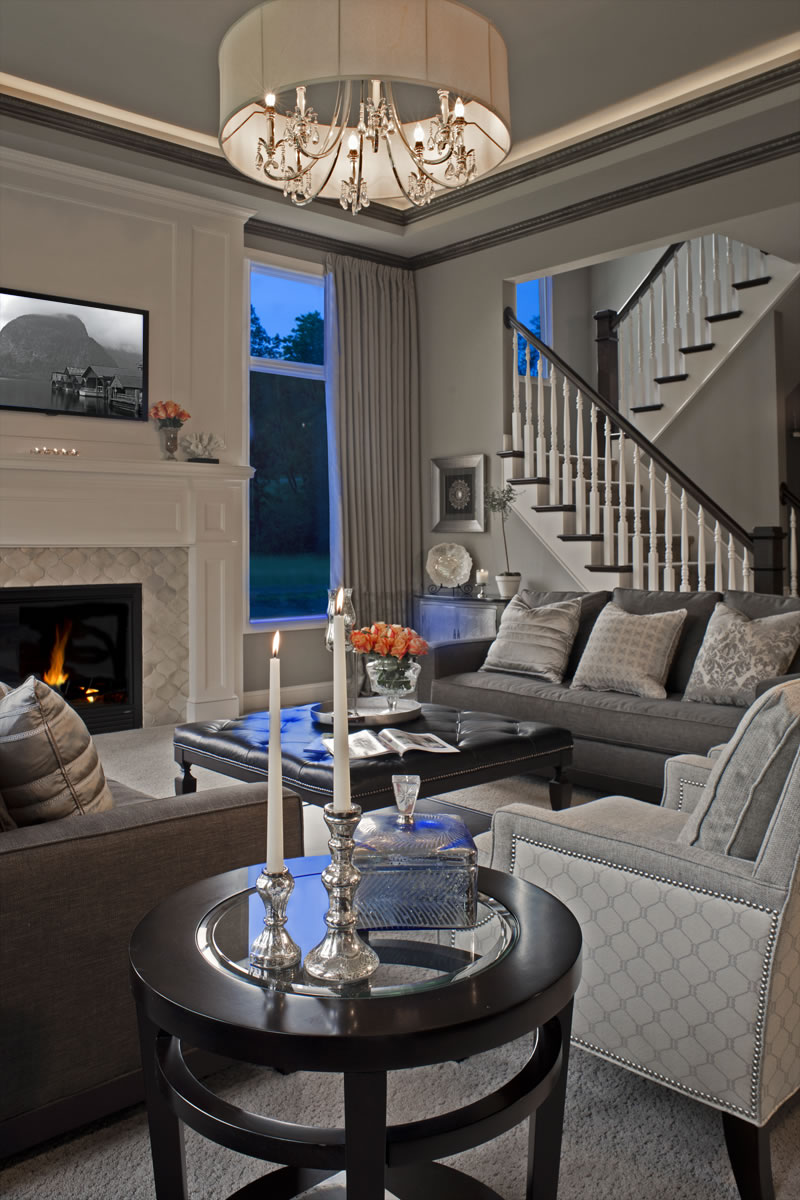 1st – TUTTO INTERIORS:

INTERIORS

| use of fabrics / wall coverings

The client loved and wanted a gray palette for this space, so the designer started with the selections of the custom bench sofas. Then it was on to dual-fabric custom chairs that are tailored-looking but not overly so. Three uniquely different fabrics for the pillows complement one another, while the black leather ottoman adds drama.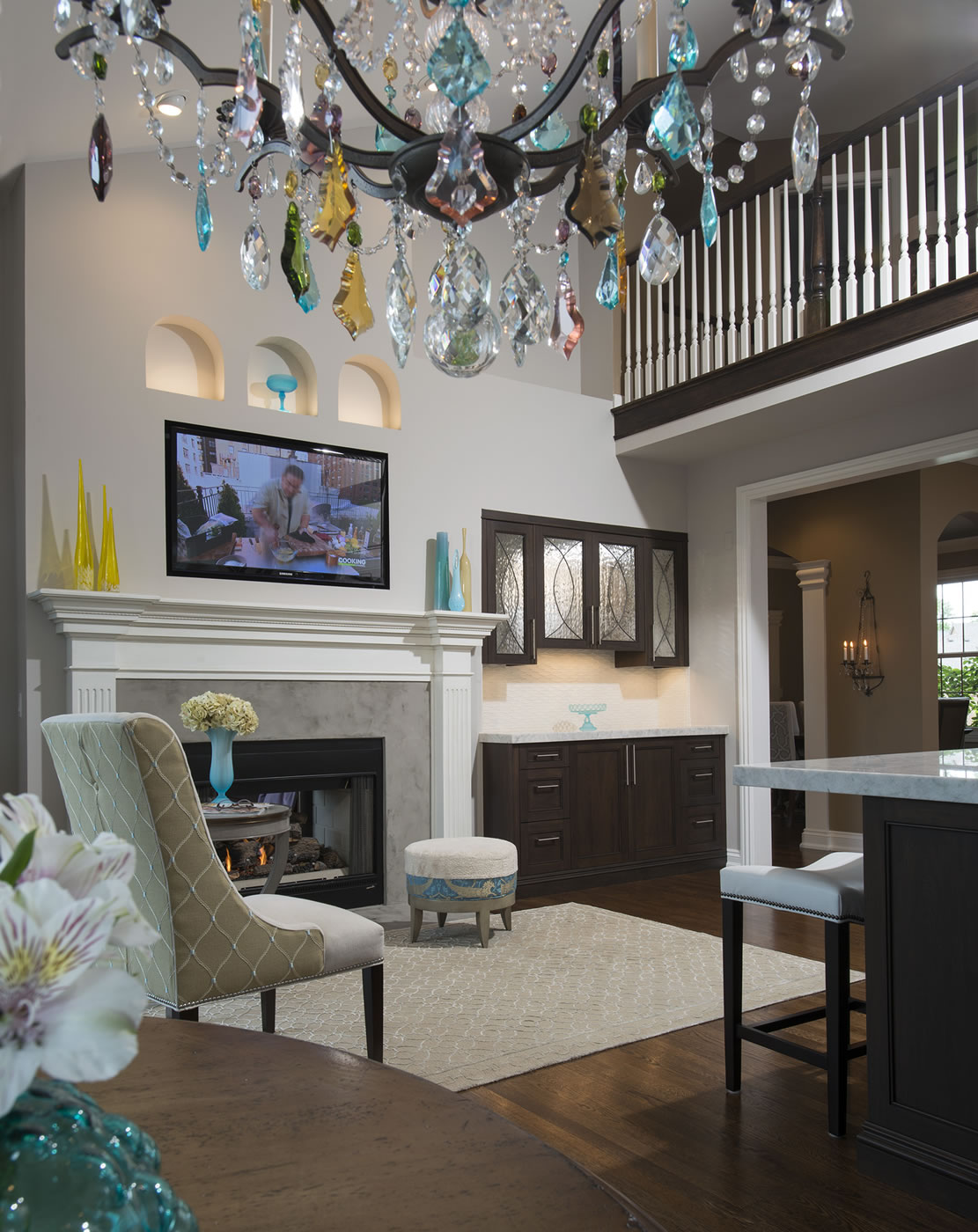 1st – TUTTO INTERIORS:

HOMES

| small-space remodel, less than 1,000 square feet

The kitchen in this home was pretty much a total tear-down — the only thing not taken out was the floor. formerly featuring darker walls and creamy, framed glazed cabinets and a limestone backsplash, it now has a fresh look. the fireplace is double-sided, which provides plenty of space for the built-in television and the niche above it.a crystal chandelier and antique leaded-glass wine bar cabinets add vintage appeal.

As printed in:
Detroit Home Spring 2014 (PDF)
Special Issue – 10th Annual Interior Design Awards